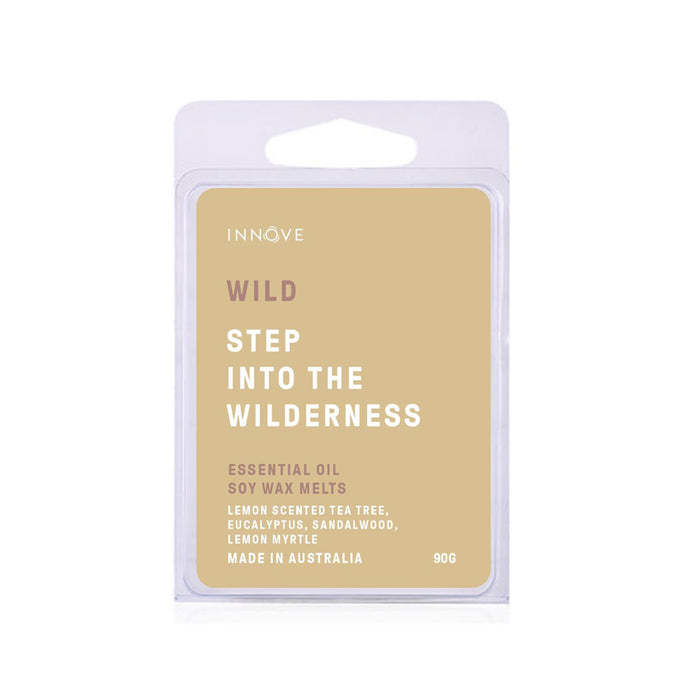 Wild Essential Oil Soy Wax Melts
Original price
$9.95
-
Original price
$9.95
STEP INTO THE WILDERNESS
An Australian native blend that can clear the mind & cleanse surroundings. Be at one with nature.
Blended 100% Pure Essential Oils: LEMON SCENTED TEA TREE, EUCALYPTUS, SANDALWOOD, LEMON MYRTLE
Channel tranquility into your home with an elegant, cleaner and longer lasting fragrance. 
Features:
- 6 Cavities Filled With Scented Soy Wax
- Made in Australia
- Australian Owned Brand
- Hand Poured in Small Batches
- Pure Essential Oils
- 100% Soy Wax
- Free from Preservatives & UV Inhibitors
- Includes 'USAGE INSTRUCTIONS' Inside Packaging.
- Cruelty Free & Vegan
- All Natural Ingredients
Experience superior scent with Innove Soy Wax Melts. These melts feature a softer, chalkier and crumblier texture as a result of their natural curing process. Made without chemical dyes, UV inhibitors, wax hardeners or preservatives, it highlights the best Australian made essential oils blended with 100% raw soy wax.
Usage Instructions: Simply break off one or two cubes from the block of 6, pop it into the top of an oil burner or melt warmer and wait for the gorgeous aroma to fill your home. Always read instructions before use.
NB: Essential oils used are true to botanical form.